Join us for an early Valentine's Day celebration at the Love My Home Preview Reception. Tour the exhibit hall, sample lovely and tasty treats provided by Lynchburg's finest epicureans, and enjoy love songs and show tunes brought to you by Lynchburg's favorite performers, led by Dr. Kathryn Voelker. Proceeds benefit the Greater Lynchburg Community Foundation. Sponsored by Member One Federal Credit Union and Isabella's Italian Trattoria, with bubbly and light fare provided by Avenue Foods, Market At Main, Peakland Catering, Suzie Q, Etc., Meriwether Godsey, and Vivian Payne.
Raffle items for the opening reception include Endstation Theatre tickets, a basket from Interiors by Moyanne, a vintage, deconstructed chair from Virginia Found Goods, gift certificate from Givens Books, a two-hour housecleaning from Merry Maids, a 90-minute massage from Darlene Holland DC, wine tasting for four at Ankida Ridge Vineyards, a signed print by Perry Payne, and an original watercolor by celebrated local artist Purnell Pettyjohn.
Reception tickets are $20 and include a weekend show pass; $5 day passes and $10 weekend passes are available on the website now at lovemylynchburghome.com; schedule and exhibitor information is on the website as well.
Kathryn Voelker, originally from Minnesota, is a professor in the School of Music at Liberty University. Dr. Voelker has performed as a flautist and conducted ensembles in Europe, China, and across the United States. She has also worked extensively as an accompanist, and been in demand as a music director at professional and regional theaters in New York, Colorado, and Pennsylvania. In 2011 she was Music Director of the Amici Opera Company in Philadelphia under impresario Raffaele Tudisco, where she performed on piano 18 operas in a single season. Her recent doctoral dissertation focused on the musical theater style of Jason Robert Brown, and she frequently performs and lectures on his musicals.
Dr. Voelker also spent three wonderful years teaching high school in Pennsylvania at the Lehigh Valley Charter High School for the Performing Arts and Faith Christian School. There, she taught band, orchestra, choir, music history, music theory, and musical theater. She holds a DA in wind conducting from the University of Northern Colorado. Dr. Voelker received a Bachelor of Music in Piano Performance from Bethel University in Saint Paul, MN, and a MA in Music Education at the Eastman School of Music in Rochester, NY. In the summer of 2017, she was the music director for the Lyric Opera program in Piobbico, Italy, a program designed to train students in dramatic musical performance.
At Liberty, Dr. Voelker directs the University Band and teaches courses in music theory, music education, and applied piano. Recent credits with the Alluvion Stage Company include Sister Act, Beauty and the Beast, The Hunchback of Notre Dame, and Big Fish.
Kelli Overmyer hails from Virginia Beach, VA and has been a part of Lynchburg's sensational arts community for the past 8 years. Kelli is currently starring as Betty Blake in Alluvion Stage Company's production of Will Rogers Follies at the Academy Center of the Arts.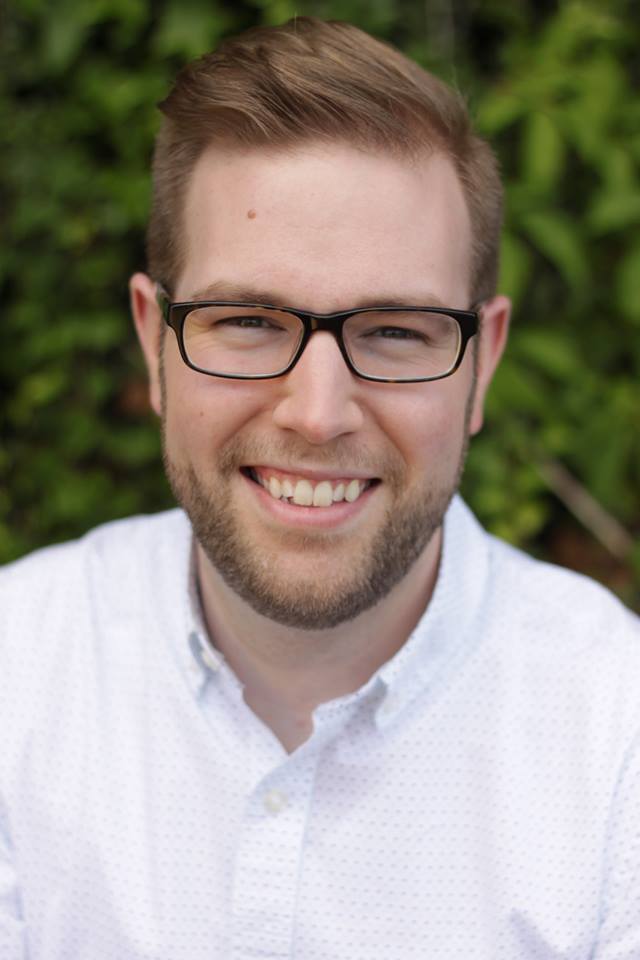 Jared is a performer and designer who has called Lynchburg home for more than ten years. He holds a B.S. in Music and Worship from Liberty University and currently works as a floral designer, while also playing an active role in both professional and community theater productions in and around the Lynchburg area. Recent productions include Disney's Newsies, Big Fish, and Hello Dolly! with Alluvion Stage Company, as well as community theater productions of Joseph and the Amazing Technicolor Dreamcoat, White Christmas, and Barnum. Jared's passion for singing and performing helps to drive his other artistic efforts, on and off the stage.